Its mummy
42nd
birthday today!
HAPPY BIRTHDAY MUMMY!
I LOVE U! :p
This year, celebrating is better than the previous.
And i hope the next year will be better, like bringing her out to eat at restaurant. :)
Same goes to dad one as well.
Anyway, I planned to go Dhoby Ghaut to see if i could get clover present for her and den go to Prima Deli at Centrepoint to get a cake for her.
But last min, we had to go down to Suntec to get dear's stuff done.
So the last min cause, we have
no time
to get what i need. =(
Therefore, i gt a Vanilla cake at Polar cake shop.
I like the cake name though.
Its called the "
FairLady
".
Wanted to go concourse get the present but no bus down.
I was like omgx so rushing lah.
So in the end, didnt get any present for her and went back home.
I was
damn angry
and
disappointed
lahx!!
Haix nvm..
When i reached home, we quickly put the cake in my room.
Luckily, my mum was still slping.
After that, my sis ask me if i want to share the present with her and i agreed.
She bought a blouse for her.
After that, when she woke up, she looked at me and say,
"Do you know what day is today?"
I acted blur and say,
"Huh, what ah? I dunno."
Hahax.. =p
Waited for dad to come back home, den prayed.
After that, dad talked to his friend, i gathered sis, kzai, dear in my room.
We prepared the cake, put on the candles.
Tried to get my Bro, but he damn bo xim lah.
He was playing his game that time.
-omgx
After when dad done with his talking on the phone, we took the cake and sang birthday song for her.
After that, phototaking. =)
Den cut the cake and ate.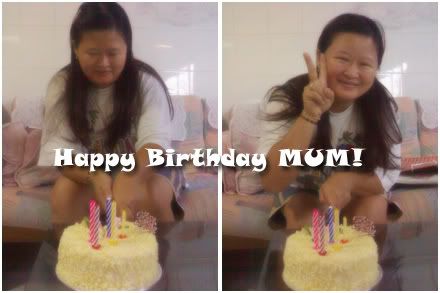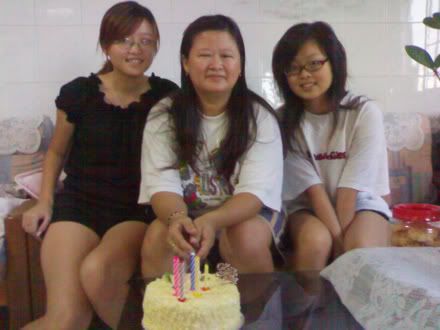 Had dinner at the coffeeshop with Mum, Sis, Bro, Kzai, Dear & me.
They ordered the curry fish head and my god, that was
super spicy
for me. -.-
But we still have a happy dinner.
And Kzai buy the bill. O.O
Den we took a bus down to Northpoint.
Dad was supposed to come and fetch us but i think he couldnt make it in time so he asked us to go first.
We met Dad at the cinema.
He bought tickets for us.
Mum and dad watched 881.
While Sis, Kzai, Dear and I watched
Dead Silence
.
We finally watched that show.
It was not bad.
Just that, i dont like Dummies.
They look scary.
After that, dad send us home and he went back to work.
Oh, and i saw you, Clarice. :D
Long time no see, girl.
You've grown pretty. :)