Hello there..
I am back with my Korea trip post because someone commented to look forward to more Korea post!
Okay so here's the motivation!!!! :D
Continuing from
Part 1
,
Part 2
and
Part 3
of Korea 2013 Travelogue..
After leaving James BLuE hostel, We took a bus to go to Seoul from Sokcho at around 5pm.
Bus ticket to Dong Seoul Bus Terminal at KRW 17,300.
Due to the jam, I guessed the bus detour and it took longer time to reach Seoul.
By the time we reached Seoul, it was already 10pm+.
We then took train at Gangbyeon Station.
But first we have to buy their ezlink card which is call the T-money.
You can buy it from the vending machine.
It was quite confusing for us so we seek help.
A card in a box. So cool~
Yay got the T-money card and off we head to our guesthouse.
Our guesthouse was located at Jongno 3(sam)-ga which is quite a central area because there are a few interchange.
When we reached our guesthouse, it was already around 11.30pm.
It was very unfortunate for us to receive very bad news from the owner.
The room that we booked was given to another people because the owner thought that we were going to forfeit the night.
We were so tired and unhappy that we made quite a fuss and wanted to cancel the stay there.
Anyway, long story short, finally they got us another room at another hostel to stay for a night.
So the next morning, they will bring us and our luggage back to the guesthouse.
Hmm.. I will write the whole grandmother story in another post to review the guesthouse okay.
So the first day in Seoul, we woke up quite early because we need to pack and unpack and move back to the guesthouse.
Then we went to explore along the streets and settled down at a cafe to have our breakfast.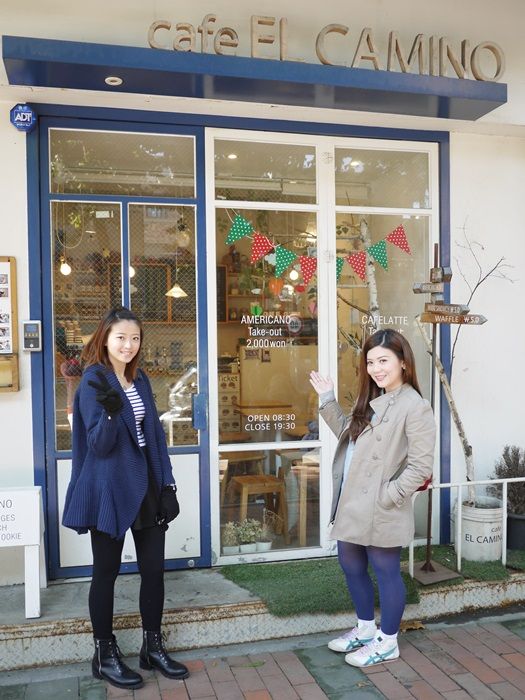 cafe EL CAMINO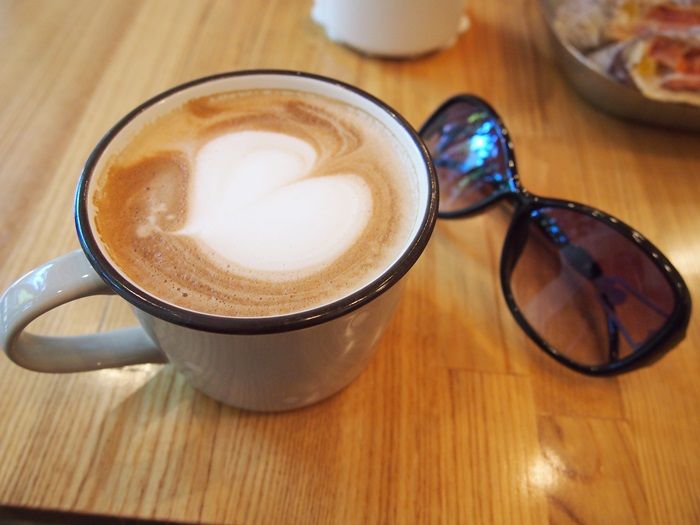 cafe EL CAMINO is a small cozy cafe which we love~
Even though the outside weather was cold, the place really warm us up.
The small and cute decorations/ ornamental really attract us that we had to go around taking photos.
There are a wide selection of drinks and menu to choose from.
We ordered the Panini set and the lady was really kind to help us cut into 3 pieces!
I am someone who needs milk in the coffee, so cafe latte suit well for me.
My 2 girls goes for Americano.
And we really love the Panini, it taste so good that I want to have it again~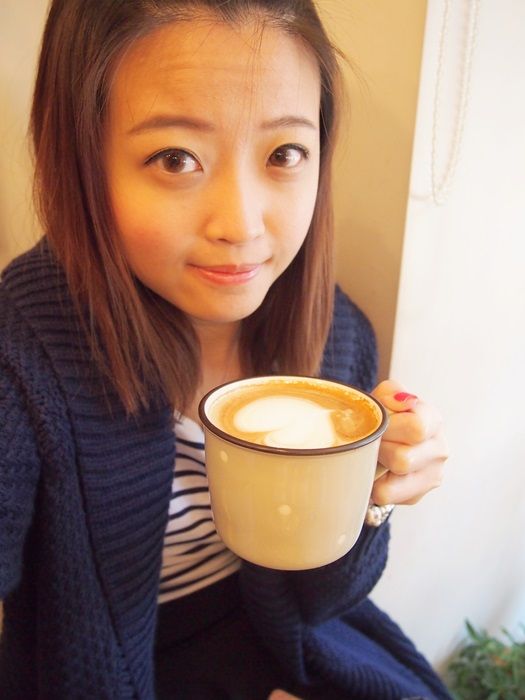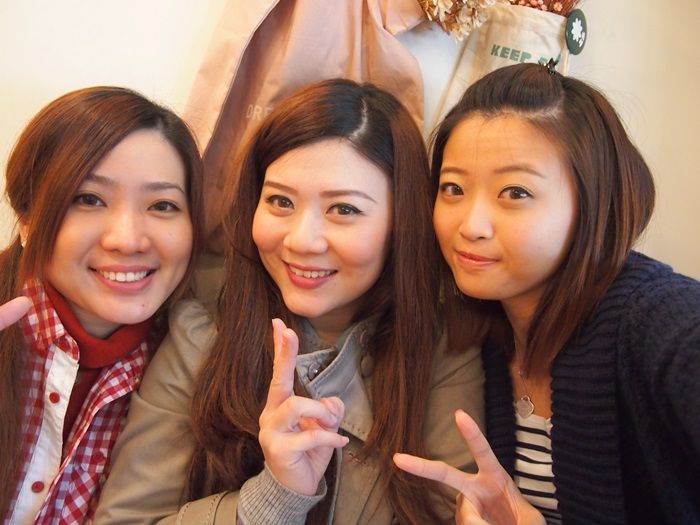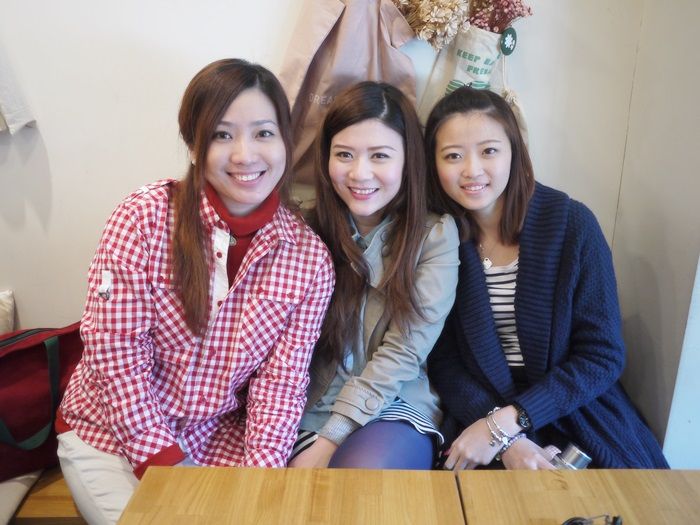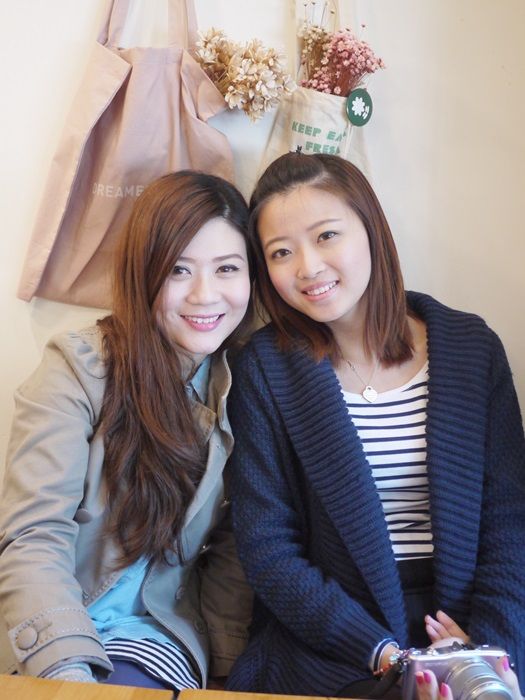 Really recommend you to stop by if you stay around Jongno 3(sam)-ga area.
It is along the streets of exit 7.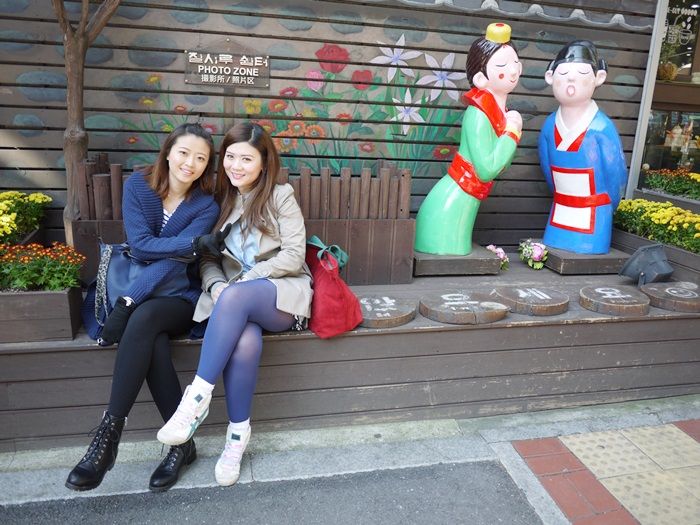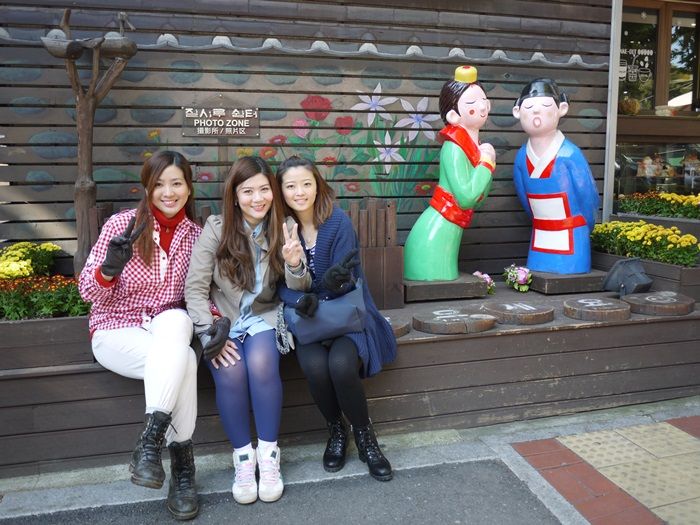 Continuing walking down to the train station and we stop by for some tourist photo shots. :D
I really do look like a tourist, don't i? Haha.. #OOTD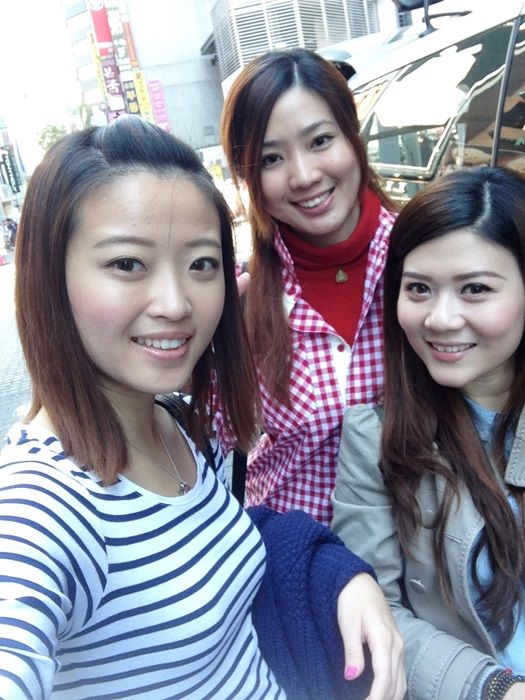 Guess where was our first stop???
Myeongdong!!!
A place where many many Korean brand of cosmetics and skin care located at.
Not only that, there are also food stores, cafes, and department store as well.!
It is a must go on the list if you visit Korea.
Many of the cosmetics and skin care that I bought came from here. Refer to my Korea Haul post
HERE
.
So the rumors of them giving many many samples are true~
Well, there are requirement to receiving many samples and maybe also meeting the right person. Tell you more about it below.
So, we had a list of shops that we want to visit.
And the first store we got into and came out with a big bag is the SAEM which became my favorite brand now.
Currently it is not in Singapore market.
So I said about meeting the right person right?
This girl whose name Seiko
(Not sure if I spelled correctly)
, but Sheauwei called her Jessica because she looked like SNSD Jessica, is really helpful to us.
Oh, she is Japanese by the way.
She explained the products to us and really convinced us into buying it. Hahaha.. not sure if its good or bad.
Well, I was in Korea, so we should shop till drop. =X
Anyway, she really gave us a big bag of samples, unlike the others stores we went too.
FYI, I am not the biggest spender for this store but still got a fair shares of good sample~. :p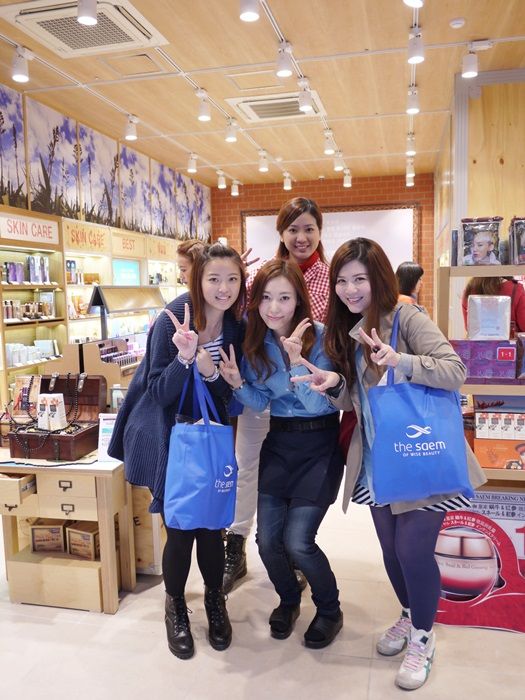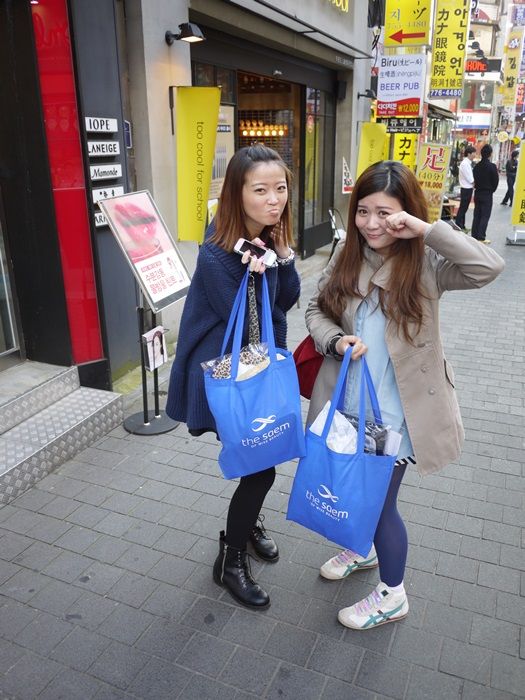 Funny shot of us because we went to the first stop and spent about S$100+ there~
Carrying this big bag around and we chanced upon too cool for school.
Another good brand to shop~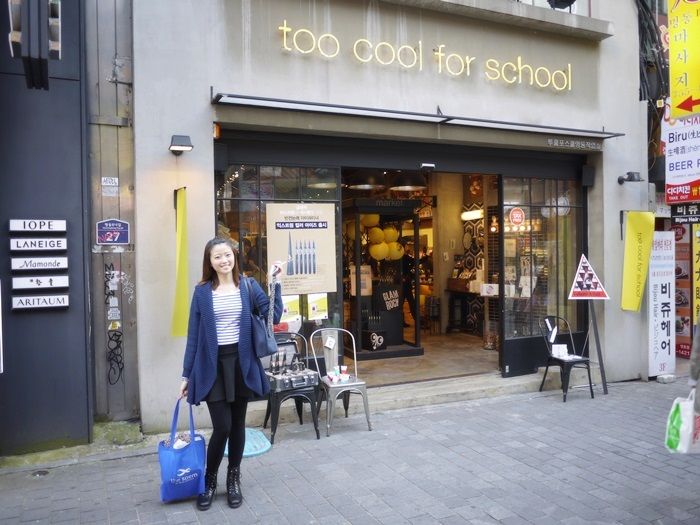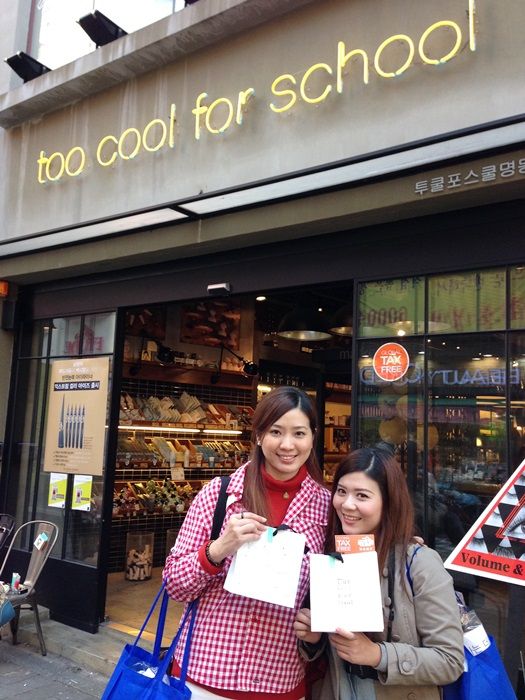 Another happy buy~
Other than these, we also went innisfree, A'pieu, Olive Young, Laneige, Etude House, etc..
There's finger food selling there too, so fret not if you are hungry after shopping..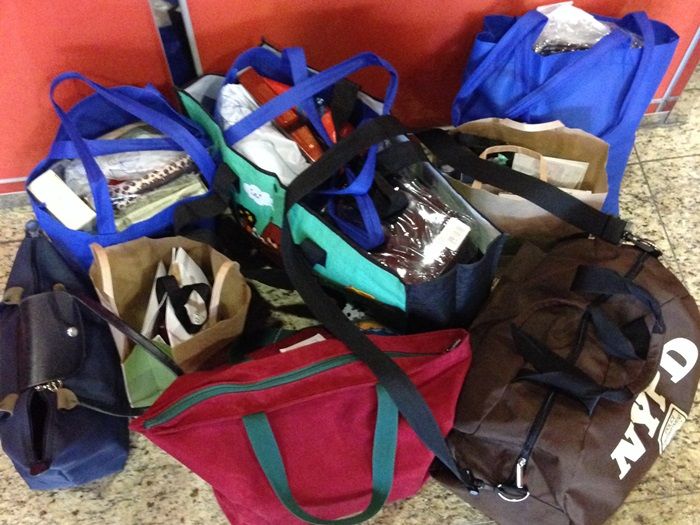 Heavy and many bags that we have to carry around.
I was really tired and its still wasn't half a day yet. LOL~
Wished there was some guys who would helped us carry the bags while we shopped. T-T
Anyway, we went back to our guesthouse and dropped out stuff before heading to the 2nd destination.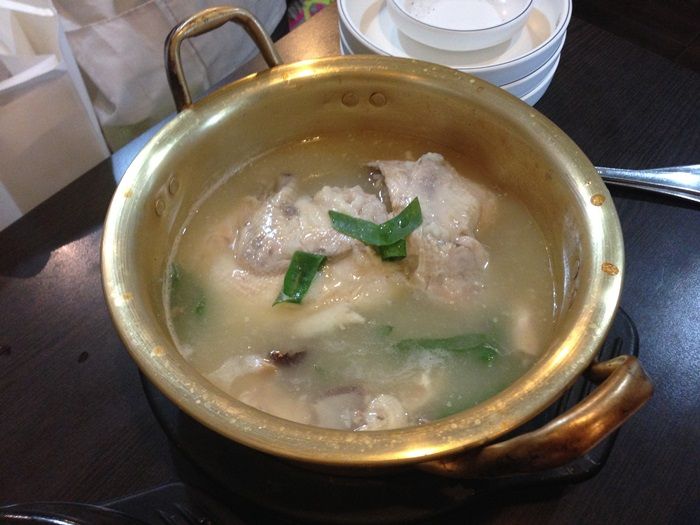 I guess we also went to Two Two Fried Chicken for food, but our order are so wrong. LOL!
We just wanted a good Samgyetang aka Ginseng Chicken but I guess that was not the right place.
So our second destination in the night was DongDaeMum.
Another shopping district that you have to go.
However, we didn't buy much clothes because it was more on selling winter clothes so we just look around.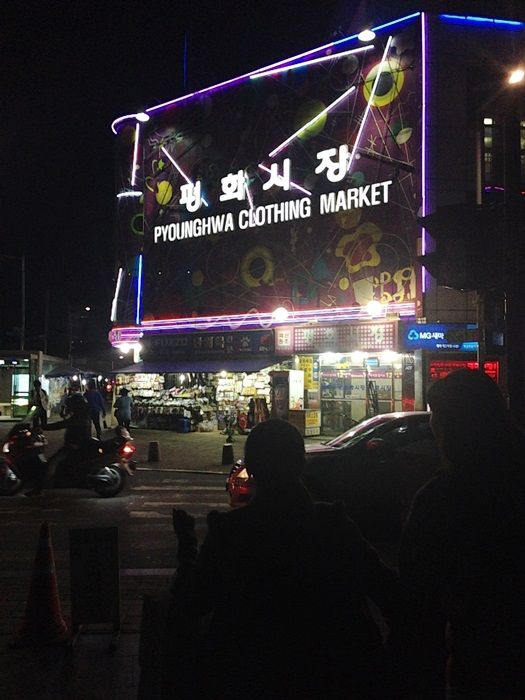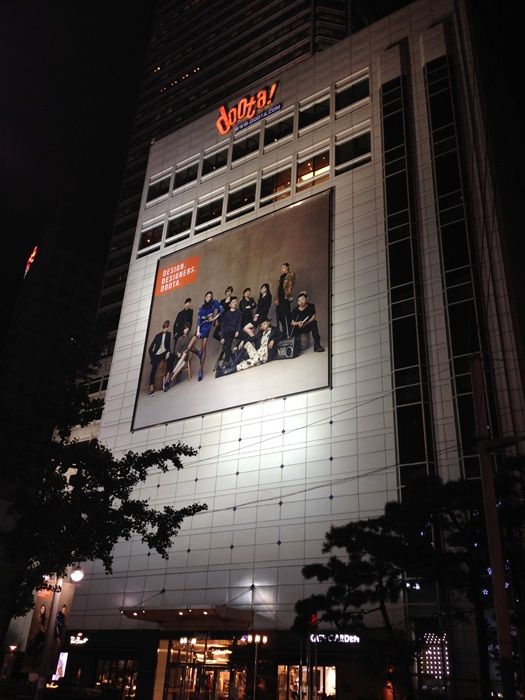 And this is the famous Doota where the Korea Fashion brand sells.
I think its a wholesale store but mostly their price doesn't come cheap, not sure if its due to the season?
If I am not wrong, its 6-8 level high.
By the way, they have locker for you to lock your bags if you don't want to carry your heavy stuff around.
Every MRT station also have locker for you, just don't forget that you have stuff locked thre. :)
Other more shopping complex like apm, Migliore..
Well, we ended the day just shopping for the first day in Seoul.
And we also explored more places as the day passes..
Shall continue soon in the next few posts.
Its going 2AM, I shall go to sleep after this.
Good night!