Do you remember the last 2 month that i said that i've emailing Japanese Student from Hirakata High School - Osaka?
Well, they came down to RP today!!
Very excited to see them.
After UT, met up with Cheri to go to the Lecture Theater to meet up with them.
We were actually very paiseh to find them as we went late by around 1 hour due to our UT.
We have 2 back up to help us, who is YQ and Mary.
At the Lecture Theater, some Japanese representatives presented slide on their culture in English.
Which is quite good.
After which, the 85 Japanese students sang song for us.
They sang Beauty & The Beast, Sukiyaki and 1 song from SMAP.
After that, we have gift present to each school.
Then, we have a picture taking for the whole grp of JCIG memebers and the Jap student.
(I dont haf the photos yet.)
After the photo-taking, Cheri and I finally meet up with my team.
We took a team photos.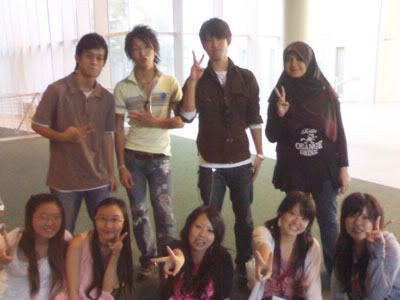 Standing: YQ, Rei, Kento, Mira
Sitting:Me, Cheri, Nanako, Saya, Ayumi
Then, we played games.
We teached them our games and they teach us their.
However, we have played the games from their side before.
They oso bring the "mask", i dunno how to phase tat thing.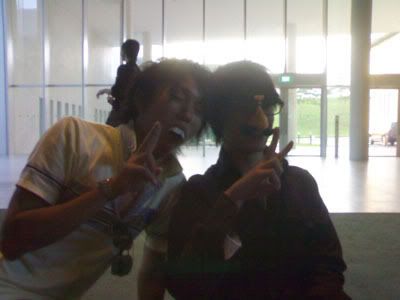 Rei and Kento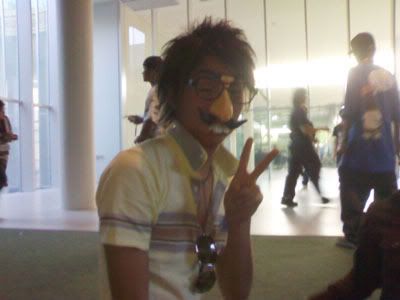 That's Rei.



This is Kento.

Like joker huh?
After that, we played chupteh.
Cheri thought of girls VS guys.
I guess they have fun playing..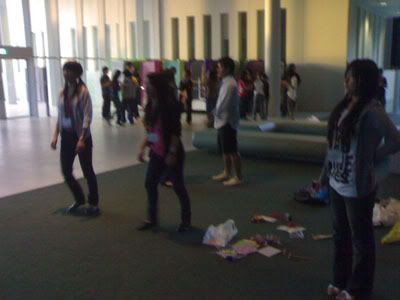 Girls team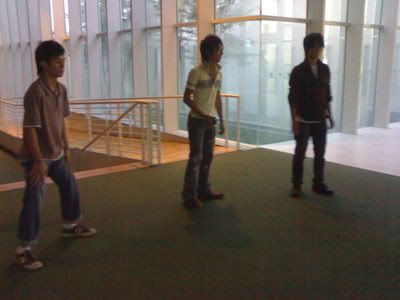 Guys team

At ard 6.30pm, it dinner time.
All of them went to take buffet to eat.
Also, i take this chance to take a photo with every Japanese students in my team.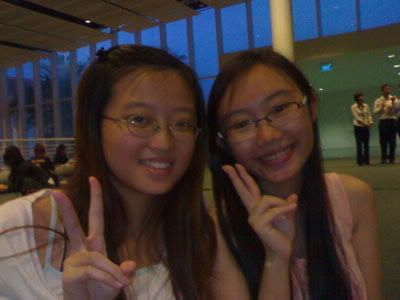 Cheri and Me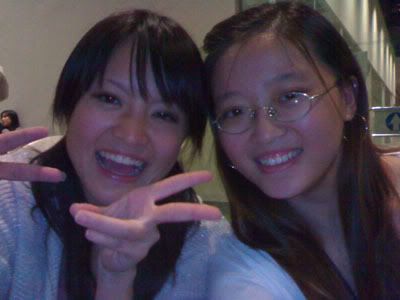 Saya and Me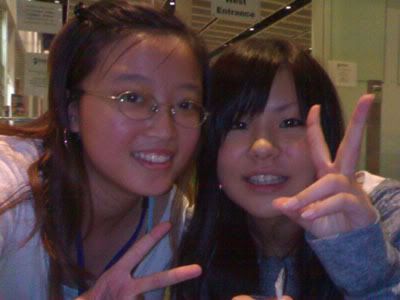 Ayumi and Me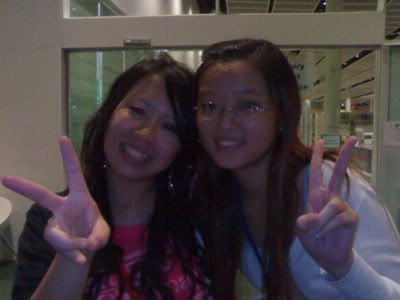 Nanako and Me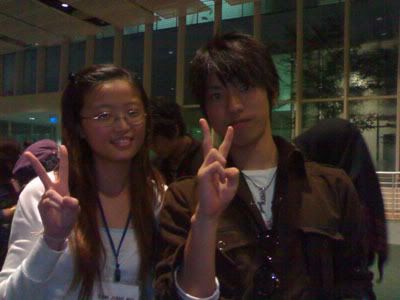 Kento and Me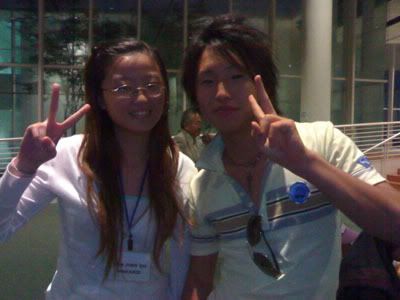 Rei and Me

Oops if you noticed, the japanese like to do the victory sign.
And therefore, we were doing the same sign as them through the photo-taking.
Most of the time, Cheri YQ and Me sat with Saya and we chit chat.
Chatted alot of stuff.
We also passed Saya out msn address.
Saya is a very outgoing girl.
Oh ya, Kento is so popular with the girls loh.
Even when Cheri and I want to take pics with him, we still have to queue. -.-"
Anyhow, they left at 7.30pm.
The time we get together is kinda short lah.
But hope that we can still keep in contact on msn.
Ahh, this motivate me to study hard on Japanese again~
In this way, there will not be much language barrier huh~
So yah, at ard 8pm, Cheri and i went off.

Gift that we gave for Jap student.
Pink for girls.
Blue for guys.

P.S: Sorry for the bad photo quality. I am using my phone camera.
Argh, i hope to get a camera soon~ Cybershot T2??
Bad bad weather...
Which made me had flu today already. :(