Starting this entry by showing my team mates' face.
Hahahaha..
No lah..
I took these pic of them to put as my hp contact thumbnails.
FYP from 10am to 9pm.
Super tired and hungry after the long day.
Weather is super cold.
Raining almost the whole day.
However, most of the time we were stayin inside the blue lab doing filming and stuff.
Actually, we seriously wasted quite alot of time today.
Its like 1st Taufiq was super late lah.
As he reached at ard 1.30pm.
Tat time, we girls and Moses were eating our lunch together.
After which, when we go back we helped Taufiq to dress up as the "Hero".
At that time, we were also waiting for our lightings to pass to us.
The other FYP teams were using for their photoshoot.
Its like our work is more important than theirs loh.
And they have finish their work already loh.
We were lacking so way behind them.
And shawn was asking one of the guys to help us.
However, i am not sure if he is willingly to help or not.
The custume give HuiSan and the team quite a headache as well.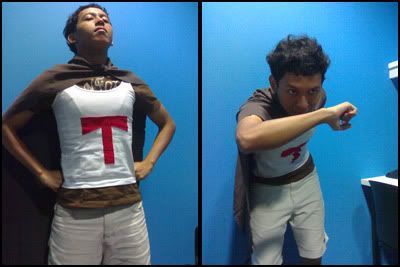 The 1st custume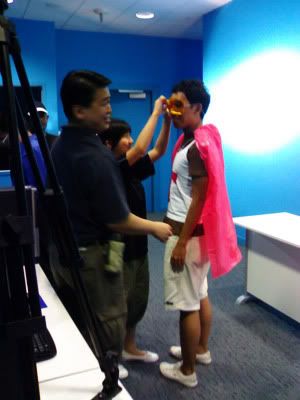 After shawn said he want the "Hero" to be outstanding...
Whatever it is, my team start filming at ard 4pm going to 5pm at last..
Its a very tedious process.
I can see everyone getting tired, emo-ish, irritating, sleepy and hungry.
Face change, mood change.
I don deny i myself also one of them. :)
And Lixian, like suddenly cannot smile even though Hui San crack jokes.
-.-"
Like 1st time see her so serious in the work sial.
O.O!
Anyway, at ard 9pm+ we packed, return the lightings and i headed home while others went to eat at CWP.
VERY SERIOUS camera woman!!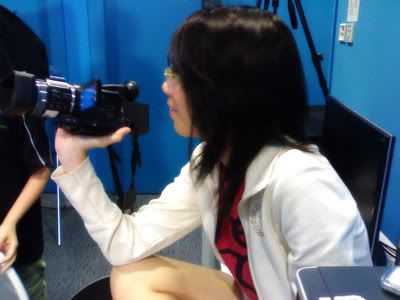 Camera woman of the day~~
There's still some more scenes to do.
However, i dunno if i will be able to help anot.
Cz i will starting working next week mon and tue and i wont be able to help.
Which left only Wednesday to film before returning the equipement.
A news from my mum when i reached home!!
My grandma, grandpa and uncle is coming my house to stay at the end of next month, before CNY.
Which means, going back to the old times where sis and i gonna share a room already.
OH MY GOD!
I seriously wanna cry out loud.
2 or 3 years back, i finally got my own room.
However, now dreams shattered again.
And i
DISLIKE
sharing room with sis because she is VERY VERY UNTIDY!!
Argh...
Everything's gonna be shared.
The cupboard and all..
Gonna rearrange the stuff again.
TROUBLESOME!
MY NIGHTMARE~~~~~
I hope dad renovate my current room into a nice room!!!
URGH~~!!
I hate my mum's cupboard in my room unless she take out her stuff and give to either sis or me!
Boohoo..
Back to work tml~ :(